Vacations
Vacations is a Notes/Domino application for management of any kind of out-of-office situations. The application supports approval workflows and complies to to the Czech laws.
Application Overview
The application allows employees to submit, approve/reject vacation requests, or in general any kind of leave from workplace (paid-leave, leave without pay, compensatory leave, sick leave, training etc.). The application tracks vacation entitlements, who is in the office or out of office and provides various reports.
Submission and approval of leave requests
Company-wide vacation calendar
Management of vacation entitlements and overtime allowance
Transfers of unused vacation entitlements between calendar years

Calendar View
Request processing
The process begins by a submission of a request by an employee or their deputy. The request must contain start and end dates, reason and type of the leave. Designated employees can submit requests for their colleagues or subordinates who may not have HCL Notes client. The system calculates the length of the leave deducting bank holidays and weekends.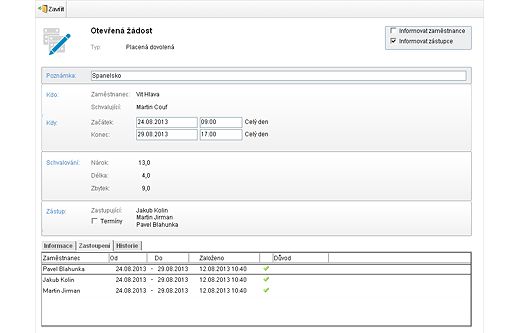 Open Request
The system prevents submition of requests that overlap in time or repeated requests for dates which have already been rejected. It is also not possible to request vacations for a longer period than the number of eligible days for each employee.
Deputation
The system can be configured in a way that employees must delegate their deputies for each leave and the deputies must accept the deputation prior to further approval of the request.
Approval
Employees' requests for vacation are approved by their supervizors, who can be notified via selected communication channel such as e-mail or HCL Sametime message with a direct link to the vacation request. The approval process can also be done via e-mail message from a mobile device.
After approval or rejection the originating employee is notified via e-mail or HCL Sametime message.
Vacation Funds
The application manages vacation funds for each employee. Unused vacation can be transferred to the next year. The fund reflects annual entitlement, vacation transferrs from previous years and current balance.

Annual Funds
Overtime Funds
Each employee can have their own overtime fund, that displays the current allowance and utilization of overtime hours.
Reports
Requests can be showed in many ways - by employee, by period and by status. The application also displays vacations and public holidays in a color-coded shared calendar view which can be easily added into HCL Notes. There are special views and reports for accountants and superiors.
Images
| | |
| --- | --- |
| Calendar View | Open Request |
| | |
| Annual Funds | |
| | |